Are you aware of the apps your children use?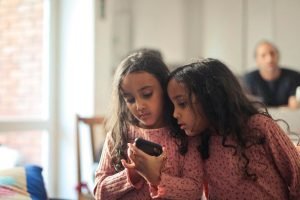 Almost all children nowadays own at least one mobile phone. Of course, the numbers vary depending on the source. But according to a report, 47% of four to ten-year-old kids in the United States have a smartphone or tablet. It means that at the moment, there are over 32 million children who own devices that can reach the Internet, something which many experts have deemed as incredibly worrying and potentially hazardous.
These stats indicate how well you know the apps your kids use. Chances are, not too well. Do you know what the apps are offering in the way of features, how secure they are and whether your child's privacy is protected?
As parents, we get a lot of questions about the apps our kids use. For example, what's a good game for my kid? Which online community is safe? What about the application? Can your children talk to strangers on that platform? In order to get an answer, it's important to get full information about the apps your child uses. 
Therefore, to help the readers, we have discussed a few questions. Let's roll them down and read them in detail.
Is the application safe? Does it allow your children to interact with strangers?
The Internet has become a huge part of our lives, particularly for younger people growing up with smartphones and tablets. Some of these apps are harmless and fun, while others are more dangerous.
Did you know that some game apps also have chat rooms where strangers can interact with your kids? And that there are apps that allow them to share personal information like their location, email address, and phone number with anyone who asks for it?
If you're not careful, your kids could also be exposed to inappropriate content like pornography or hate speech.
The truth is, some of these things can happen even if you don't let your kids use social media platforms like Facebook or Instagram. However, it's easier for them to connect with strangers when they use applications designed specifically for gaming purposes and socializing.
As parents, we need to be aware of the apps our kids use and their capabilities to keep them safe from potentially harmful situations.
Are there any violent acts involved?
It is a biggie for parents because it's not always easy to tell what a game or app contains until you download it. For example, some games allow users to pretend they are shooting people or animals (sometimes even other players), which could traumatize young children who don't understand that this isn't real life. 
Even some cartoons portray graphic images of fistfights or physical abuse between characters, which can upset younger viewers who don't understand that this is fiction and not real life. It is why parents must look at any app before letting their children download it onto their phones or tablet.
In the event of accidental or unwanted app buying, what are the policies?
When you buy an app from the Google Play Store, you don't have to worry about accidental or unwanted purchases.
With the prevalence of in-app purchases, apps created for children often take special precautions to avoid accidental or unwanted purchases. For example, in Google Play Store, users must verify their identities before completing any payment transactions. So, your kid will not cause any major financial damage.
You can also set spending limits by age group or specific app so that your kids aren't allowed to make any more in-app purchases without your authorization.
How does it help in the development of your child's brain?
Of course, educational apps can help you learn and remember things, but they aren't the only way. Other tools can also help you memorize information, like flashcards or mnemonics (memory tricks).
Apps that teach problem-solving skills are important for cognitive development because they help children understand how things are connected. For example, an app might show a child how electricity works by giving them a virtual circuit board and how to wire it up. 
The benefit of these apps is that they allow children to explore their ideas without getting hurt!
Are there security certificates or ranking systems in place for in-app purchases?
In-app purchase stores provide users with a large variety of content and have various security measures to ensure that only appropriate material is accessible by children.
Apple App Store
The Apple App Store does have a security certificate and ranking based on age-appropriate content and a security certificate.
Apps rated 4+

– suitable for all age group users

Apps rated 9+

– contain violence, horror-themed, or sexually suggestive content.

Apps rated 12+

– are not suitable for children below the age of 12.
Pan-European Game Information
PEGI is a European video game content rating system established to help European consumers make informed decisions when choosing age-appropriate content. PEGI ratings are legally binding in some countries, and parents informally use them in many others.
The rating process is handled by the Pan European Game Information (PEGI) organization, founded in April 2003 to replace the pan-European version of the IARCs by using a single set of guidelines for video game classifications across all of Europe instead of different regional systems. 
They also publish parental advisory codes for each title rated on their website. This allows users to search for games that may not be suitable for children or younger teens based on their preferences and restrictions.
kidSAFE Seal Program
It is a voluntary program that has become the gold standard for certifying apps and websites used by children 12 years old and under. The kidSAFE Seal Program ensures compliance with COPPA, which requires app developers to get consent from parents before collecting data from children. 
Additionally, it ensures compliance with the Children's Online Privacy Protection Act (COPPA), a law designed to protect kids' privacy online.
Google Play Store
There are many family-friendly content regulations in place at the Google Play store. In addition, its content is reviewed and approved by accredited independent establishments members of The Internal Age Rating Coalition.
Closing Words
We recommend checking out the security certificate and ranking of your child's apps. This information will let you know if they are safe or need to be removed from your child's device.
The app should have a security certificate to protect your child from exposure to inappropriate content.

It should also have a ranking based on age-appropriate content so that you can feel confident that it will not contain any offensive material.

We think it's important to keep children safe while using the app so that they don't go looking for bad things on their own!